I owe it to everyone who responded to my post about my weekend of bowling out in the country to do an update of the weekend.

Berri is a country town 3 hours from my residence in Adelaide, Australia so it proved to test everyone's patience not to mention our thinking skills. The "bus" could barely fit our belongings, let alone ourselves.

Firstly to clear any possible confusion up this is not anything like the "PBA" regionals. Also the PBA is in America and I live in Australia. I was in a lower-level competition aimed at the elderly and those who suffer from physical and/or intellectual disabilities.

We were split into divisions for each of the following settings. Not that I can remember if I was in division C or D or whatnot.

Singles - 130, 144, 97. My most exceptional round of the weekend. If I was going to prove myself in any area, it had to be the singles. I won gold.

Doubles - 106, 95, 105. Modest. I got kind of lucky in that my partner was having a good round in the doubles. I did my bit by not bowling like complete utter crap. Somehow we were the top doubles team for our division.

Teams - First two were 90-something and then 102 I think (don't remember). Even though we lost 2 out of 3 against our opponents next to us we did not lose by much and when we won the difference I think was around 100 pins technically giving us silver and them bronze. The gold was won by the other group, which I don't remember.



After winning the gold for Singles (the medals are all the same)




Me and my Doubles partner...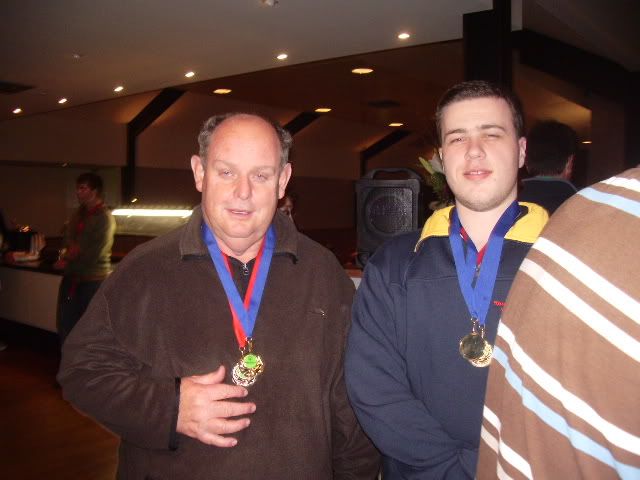 My Team receiving our Silver Medals. I'm the one on the top right hand corner.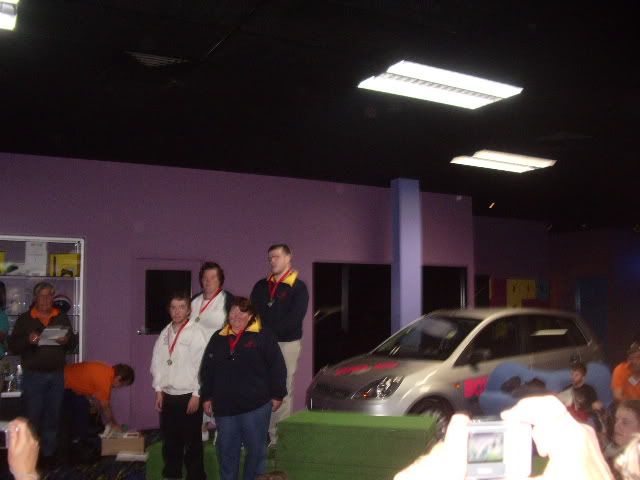 All-in-all I think I have done quite a good job for myself ;).

-- Tom.

X-posting to
amflanes
bowlers
bowlers_unite
bowlingfans and
tenpinbowlers